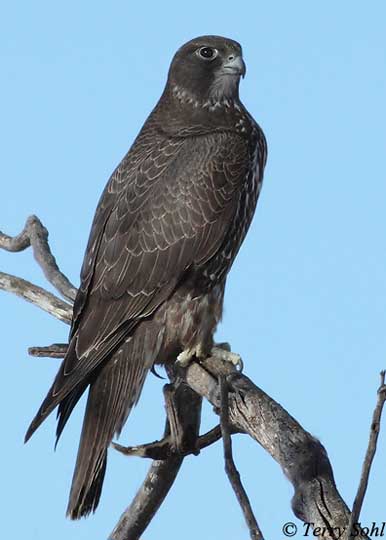 The Gyrfalcon is the largest falcon in the world. Generally a bird of the Arctic, a few may wander south in the winter, but it is a rare visitor to South Dakota. Three color phases can be found, a gray morph (the most common in North America and pictured to the right), a dark morph, and a stunning white morph. Links to photos of immature gray morph birds can be found at the bottom, along with additional mature bird photos.
Habitat:
Uses open tundra with nearby cliffs for nesting during the breeding season. Those that migrate south in the winter are usually found along the coast, or in very open country.
Diet:
Primarily feeds on birds, especially ptarmigans in its normal Arctic range. Coastal Gyrfalcons may feed heavily on ducks, geese, and gulls. They will also take small mammals given the opportunity.
Behavior:
Hunts from either a perch or while in flight. Prey is often taken by surprise as the Gyrfalcon approaches close to ground. Very strong fliers, Gyrfalcons may also pursue prey over very long distances.
Breeding:
Non-breeder in South Dakota
Song:
Usually silent. Will make a loud keya-keya call near the nest.
Migration:
Many birds are permanent residents throughout its range. Those at the northernmost extreme of the breeding range may move south in the winter. A very few may move south into the United States in the winter, with immature birds the most likely to wander the furthest.
Status:
Generally stable in North America. It has declined in parts of it's Eurasian Arctic habitat, possibly due in part to the taking of young for falconry.
Photo Information:
January 17th, 2010 -- Near Presho, South Dakota -- Terry L. Sohl
Additional Photos:
Click on the image chips or text links below for additional, higher-resolution Gyrfalcon photos.