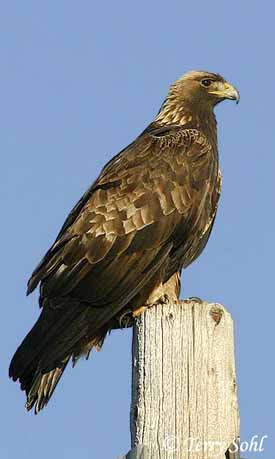 Generally found in the western half of the U.S. (although it is an uncommon resident of the East), the Golden Eagle is a hunter of wide open prairies. They are also found in much of Europe and Asia. Golden Eagles are generally solitary birds, and are not often found in the large groups that Bald Eagles are sometimes found.
Habitat:
Open country, including prairie, rangeland, desert, or tundra.
Diet:
Primarily small mammals. Occasionally will take larger prey such as young deer or pronghorn. Also will occasionally feed on birds, snakes, lizards, and carrion.
Behavior:
Will look for prey while soaring, while observing from a perch, or by swooping low over the ground. Pairs will sometimes cooperatively hunt. Pairs may also mate for life.
Nesting:
March through June
Song:
Generally silent. Occasional yelp around nest.
Migration:
Birds in northern part of their range (northern half of Canada, and Alaska) move south in the fall. Many birds in the western U.S. are permanent residents.
Similar Species: Bald Eagle
(juvenile)
Conservation Status:
Currently stable, although numbers are lower than historical levels (especially in the Eastern U.S.)
South Dakota "Hotspot":
They are very often found on the Fort Pierre National Grasslands, especially in winter and migration.
2) Cornell University's "All About Birds - Golden Eagle"
Photo Information:
February 1st, 2005 -- Lyman County near Lyman -- Terry L. Sohl
Additional Photos:
Click on the image chips or text links below for additional, higher-resolution Golden Eagle photos.