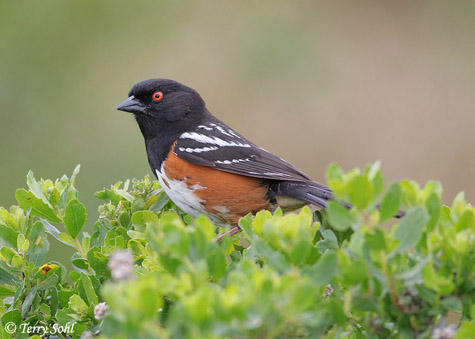 The Spotted Towhee and the Eastern Towhee were formerly considered separate races of the same species, the Rufous-Sided Towhee (a name which is no longer used). The two are very similar, but differ in range, as the Spotted Towhee is mostly a western U.S. bird while the Eastern Towhee is an eastern U.S. bird. The Eastern Towhee also lacks the Spotted Towhee's white spots on its back and wings. The two species may interbreed where their ranges overlap.
Habitat:
Prefers brush and thickets, usually as the understory to a forest/woodland.
Diet:
Insects, fruits and berries, seeds, nuts, occasionally small reptiles, amphibians, and snakes.
Behavior:
Does most of its foraging on the ground, often scratching through leaf litter in search of insects and other food. They will also forages low in trees or in the forest undergrowth.
Nesting:
June and July
Song: Long, buzzy chee-weeee. Variable.
Migration:
Some to the south and west of South Dakota may be permanent residents, but South Dakota birds generally migrate south in the fall.
Bird Feeders:
Will attend for a suet/seed mixture.
South Dakota Hotspot: Common in the western part of the state, but in the eastern part of the state, Newton Hills State Park in Lincoln County (southeastern corner of South Dakota) is an excellent spot to look for both Spotted and Eastern Towhees in the summer.
3) Audubon Guide - Spotted Towhee
Photo Information:
April 19th, 2007 - Point Reyes National Seashore, California - Terry Sohl
Additional Photos:
Click on the image chips or text links below for additional, higher-resolution Spotted Towhee photos.