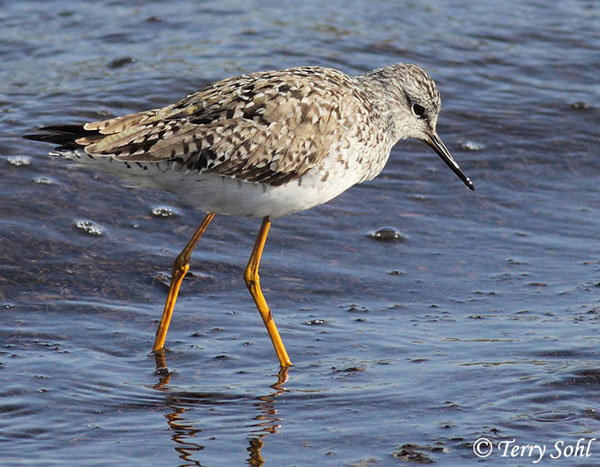 Lesser Yellowlegs are one of the most common shorebirds that migrate through the state. They are commonly seen in flooded fields, shorelines, and mudflats as they migrate through South Dakota, in both the spring and fall. Lesser Yellowlegs are one of the two "Yellowlegs" species migrating through the state, the other being the Greater Yellowlegs. The two are very similar in overall appearance and structure, but the Lesser Yellowlegs is considerably smaller and has other minor identification features (see notes below).
Habitat:
Flooded meadows, mud flats, shallow ponds, and shorelines during migration. On its summer breeding grounds in Canada and Alaska, it breeds in clearings in the boreal forest, often near water, but not always.
Diet:
Insects, small fish, and crustaceans. Eats many aquatic insects, which make up the majority of it's summer diet.
Behavior:
Forages in very shallow water. It usually grabs food items right at or right below the surface, rarely probing deeper into mud or lake bottom. They can sometimes be seen walking along through shallow water, bill tip barely submerged, swinging their head and bill back and forth and grabbing prey items they come into contact with.
Nesting:
Non-breeder in South Dakota. In breeding range, the nest of a Lesser Yellowlegs is a shallow depression on the ground, sparsely lined with bits of vegetation, and often in a protected area like near a clump of vegetation or a stump. The female usually lays 3 or 4 eggs, and both parents help to incubate them. The young leave the nest soon after hatching and feed themselves, but both parents help tend to them and protect them. The young fledge after about 3 weeks.
Song:
Harsh short tew-tew or tew. Alarm call is sharp kip. Also makes musical pill-e-wee.
Migration:
Summers in Canada and Alaska. Winters on U.S. coasts, the extreme southern U.S., and points south.
Interactive eBird Map:
Click here to access an interactive eBird map of Lesser Yellowlegs sightings
Similar Species:
Greater Yellowlegs - Size differences are app

arent between the two yellowlegs species if you see them side-by-side, but it can be difficult to judge for a bird seen in isolation. Identification thus usually depends upon the bill, and voice. Greater Yellowlegs have a longer bill that appears to have a slight upturn on the end 1/3rd. The bill is about 1.5 times as long as the head, compared to a bill about the same length as the head width for a Lesser Yellowlegs. Voice can also be used to differentiate them, as Greater Yellowlegs give a higher pitched, piercing call that's often given in a series of 3 or 4 notes, while Lesser Yellowlegs give a more mellow, lower-pitched note often given in a series of 1 or 2 notes. See

Comparison Chart.
Solitary Sandpiper - Solitary Sandpipers are also migrants through South Dakota, and have a general appearance that could be confused with Lesser Yellowlegs. The legs on a Solitary Sandpiper are more of a greenish-yellow, compared to the bright yellow on a Lesser Yellowlegs. They have a dark back with a tidy arrangement of white spots, while the back of a Lesser Yellowlegs is more chaotic and spangled in appearance. Solitary Sandpipers have a white eye-ring that appears more prominent than any markings around the eye of a Lesser Yellowlegs.
Stilt Sandpiper - Another migrant through the state, Stilt Sandpipers in breeding plumage have chestnut tones on their head/face, as well as heavy barring on their underparts, that differentiate them from Lesser Yellowlegs. Overall, Stilt Sandpipers are also smaller than a Lesser Yellowlegs (although again, size can be difficult to judge if both species aren't side-by-side), and a bill that has a definite droop at the end (compared to straight bill of a Lesser Yellowlegs).
Conservation Status:
Generally stable throughout its range, Lesser Yellowlegs are common in some areas and are found over a wide geographic area. The IUCN lists the Lesser Yellowlegs as a species of "Least Concern".
Further Information:
Photo Information:
April 22nd, 2012 -- Western Minnehaha County -- Terry L. Sohl
Additional Photos:
Click on the image chips or text links below for additional, higher-resolution Lesser Yellowlegs photos.
Audio File Credits:
1Paul Marvin, XC451590. Accessible at www.xeno-canto.org/451590.