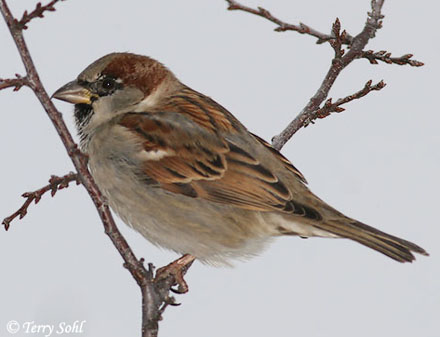 House Sparrows are one of the most widespread and abundant birds in the state, and throughout most of North America. The House Sparrow is native to Europe and Asia. It was first introduced in the 1850's in New York City and rapidly spread over most of the continent. The House Sparrow strongly associates with areas of human activity, hence its ability to adapt to nearly any urban habitat. Unpopular with many because it out-competes many native songbirds for nesting locations. A male is pictured on the right.
Habitat:
Nearly always around man-made structures, from densely populated urban centers to residential areas and farmsteads.
Diet:
Primarily seeds, including those of weeds, grasses, and waste grain. Also eats insects, fruits, and berries. Has adapted to urban settings and will eat crumbs and other food left by humans.
Nesting:
April through July
Migration:
Permanent resident throughout its range.
Feeders:
Will attend feeders for most seeds, grains, bread, and fruit.
Nest Boxes:
Will use man-made nest boxes, often taking over nest boxes meant for bluebirds or other species.
Conservation Status:
Populations have actually been declining steadily in recent deacdes.
3) Audubon Guide - House Sparrow
Photo Information:
February 10th, 2007 - Palisades State Park near Garretson, South Dakota - Terry Sohl
Additional Photos:
Click on the image chips or text links below for additional, higher-resolution House Sparrow photos.