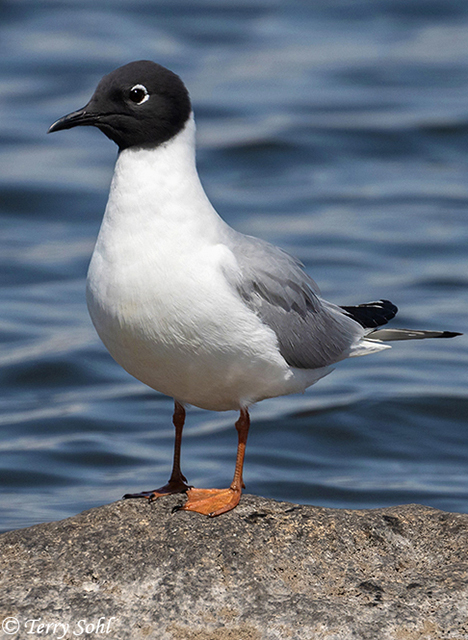 The Bonaparte's Gull is the smallest gull normally found in the South Dakota. One of the "black-hooded" gulls (in breeding plumage), they are smaller and more delicate than their cousin the Franklin's Gull, another species that can be found in South Dakota in migration. Unlike the Franklin's Gull however, which may stay and breed in certain locations in the state, Bonaparte's Gulls are birds of the boreal forest, living in and around shorelines surrounded by forest. Bonaparte's Gulls are unique in that they next in trees, rather than on the ground like most gull species. The species was named after a distant cousin of Napoleon.
Habitat:
Usually near rivers and lakes during migration through the state. During the summer breeding season, they are found along lakeshores and riversides bordered by coniferous forest.
Diet:
Insects, fish, crustaceans, but mostly insects on migration through the state.
Behavior:
Forages while in flight, by dipping to the surface to pick up items or sometimes plunge-diving. They also can "fly-catch, snatching insects during flight, and will also pick up food items while wading or swimming.
Breeding:
Non-breeder in South Dakota. In breeding range, the nest of a Bonaparte's Gull is a platform of sticks, lined with softer vegetative material such as grasses or moss, placed in a conifer tree, or sometimes on the ground. The female usually lays 3 eggs, and both parents help to incubate them. When the eggs hatch, both parents help to feed the young.
Song:
Low harsh grrrrrr or reeeep is the most often heard call of birds in migration. Other calls heard near nesting sites include a longer, more drawn out greeeeeeeeeeeee.
Migration:
More common in the eastern part of South Dakota than in the west during migration. Summers in Canada and Alaska, winters along U.S. coasts and southward.
Interactive eBird Map:
Click to access an interactive eBird map of Bonaparte's Gull sightings
Similar Species:
Plumage similarities are present for many of the "black-hooded" gull species. For a more detailed comparison, click here to see identification tips for black-hooded gulls. It's impossible to list all the differences in all plumage conditions here (juveniles, winter plumaged birds, etc.), so most of the differences noted below are for breeding plumaged birds (although structural elements and some plumage patterns may persist regardless of the season). Similar species include the following:
Conservation Status:
Bonaparte's Gulls are found over a very large geographic area, and are common in parts of their range. Overall populations are stable or increasing in most areas. The IUCN lists the Bonaparte's Gull as a species of "Least Concern".
Further Information:
Photo Information:
April 23rd, 2020 - Lake Whitewood, South Dakota -- Terry Sohl
Additional Photos:
Click on the image chips or text links below for additional, higher-resolution Bonaparte's Gull photos.
Audio File Credits:
1Paul Marvin - Recorded in Kennebunk, Maine on May 18th, 2018. Original recording and information from xeno-canto.
2Rachel Hudson - Recorded in Kitsap County, Washington on November 4th, 2018. Original recording and information from xeno-canto.