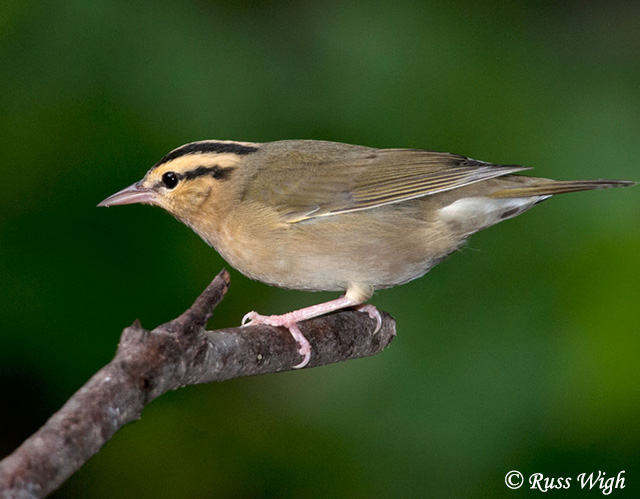 The Worm-eating Warbler is another poorly named bird, for they rarely if ever feed on earthworms, although they do feed heavily on caterpillars. Relatively unusual for a warbler, they're often quite sluggish, slowly poking through the forest understory and the forest floor for insects. The female is extremely attached to her nest, and will often remain, motionless, until a predator (or curious bird watcher) is within inches of the nest. The mother will then burst from the nest, feigning injury a short distance away to try and lure the intruder away from the nest. Their dry trilling is very reminiscent of the Chipping Sparrow's song.
Habitat:
Found in deciduous forests during the summer breeding season, especially slopes or shaded banks with a thick undergrowth of shrubs and saplings. Found in dense thickets or forest undergrowth during migration and in winter.
Diet:
Primarily feeds on caterpillars and other insects, as well as spiders and occasionally snails.
Behavior:
Forages in trees and shrubs for insects, especially on the bark of tree trunks and branches. Will also forage on the ground, probing fallen leaves for insects. Often a relatively sluggish forager, at least compared to most warblers.
Breeding:
Non-breeder in South Dakota.
Migration:
Summers throughout much of the eastern United States wouth of the Great Lakes. Winters in Mexico and southward.
Similar Species: Generally distinctive, although possibly confused with Swainson's Warbler.
2) WhatBird - Worm-eating Warbler
3) Audubon Guide - Worm-eating Warbler