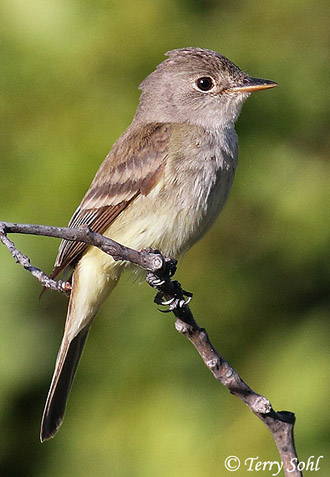 The Willow Flycatcher and the Alder Flycatcher were considered one species, the "Traill's Flycatcher", until the 1970's. Virtually identical in looks, they are only safely distinguished from each other by their different voices. Their ranges are quite different in summer, however, with the Alder Flycatcher found primarily in Canada and Alaska, while most Willow Flycatchers are found in the lower 48 states.
Habitat:
Breeds in thickets and small trees, especially near water, but also along woodland edges and brushy fields.
Diet:
Primarily insects and spiders. Will also occasionally eat berries, and possibly seeds.
Behavior:
Forages in typical flycatcher fashion, observing from a perch and flying out to catch passing insects. In addition to catching insects in mid-air, they also glean insects from foliage while hovering.
Nesting:
June and July
Migration:
Summers throughout much of the United States in varying numbers. Winters in South America.
Conservation Status:
Has declined locally where streamside habitat has been lost. A race that breeds along streams in the Southwest is endangered.
2) Cornell Lab of Ornithology - Willow Flycatcher
3) eNature.com: Willow Flycatcher
Photo Information:
July 29th, 2009 - Near Park City, Utah -- Terry Sohl
Additional Photos:
Click on the image chips or text links below for additional, higher-resolution Willow Flycatcher photos.