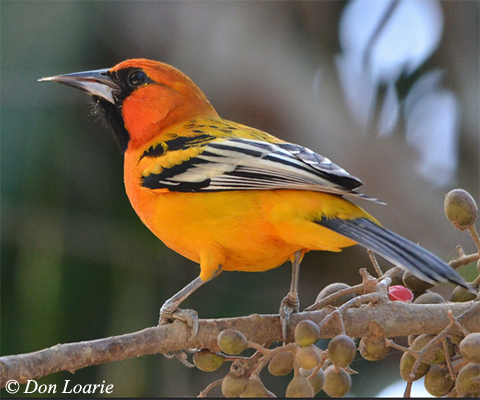 The Streak-backed Oriole is a bird of Mexico and Central America, but a few sometimes stray into southern Arizona and California, primarily in the fall and winter. However, there are a few records of breeding in the U.S. Streak-backed Orioles are distinguished by the broken dark streaks on an orange back, and a darker orange on their head than on the rest of their body. In the northern part of their range, including those birds that cross into the U.S., males are much more brilliantly colored than females, as is common with most Orioles. However, females are progressively brighter as you move southward in the species' range, so much so that in the southern part of their range they are sometimes difficult to distinguish from males.
Habitat:
They are usually found in open woodlands and semi-arid shrublands. In much of their range their prefer open woodlands with thorny Mimosa shrubs in the undergrowth. They also seem to prefer areas of other thorny bush species when Mimosa is not present.
Diet:
Feeds heavily on insects and spiders, but will also eat fruits, berries, seeds, and nectar.
Behavior:
Tends to forage at moderate to high elevations in the canopy of broad-leaf forests.
Nesting:
Monagamous during the nesting season, a female builds a hanging, basket-shaped nest from plant figures, typically near the end of a tree branch. The clutch usually consists of 3 or 4 eggs, which hatch after about 2 weeks. The young are fed by both parents, with the fledging occurring after about 2 weeks.
Song: Males sing a warbling ooo-CHEE-ooo-CHEE-ooo-CHEE-ooo
Migration:
Considered a permanent resident throughout its range, some short distance migration is noted, as evidenced by birds moving to the southwestern U.S. in fall and winter.
Similar Species: In range, most likely to be confused with Hooded Warbler