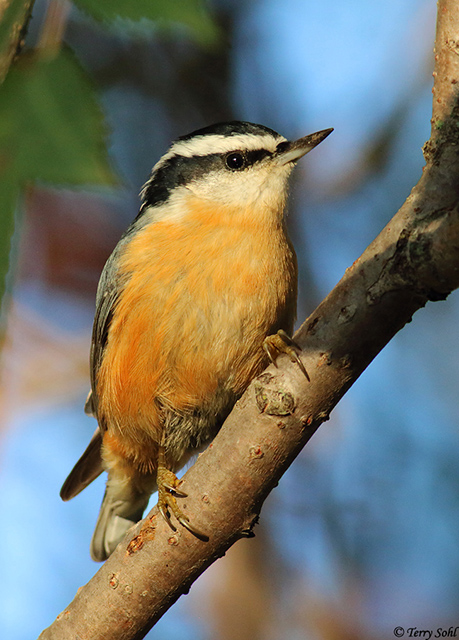 Red-breasted Nuthatches are a very tame winter visitor to home feeders in South Dakota, although they can also be found year-round in the Black Hills. They will often ignore a human presence just a few feet away as they visit a feeder. Winter numbers vary greatly from year to year. They can migrate very early in the fall, often already arriving by September (as with the bird in the photo to the right).
Habitat:
Nearly always found in conifer-dominated forests during the nesting season. They will utilize all forest habitats during migration and in winter, and are also often found in urban settings.
Diet:
Primarily insects in the summer, many seeds in the winter.
Behavior:
Feeds by clambering along the trunks and branches of trees. They will use crevices in tree bark as a seed cache, storing seeds for later retrieval.
Nesting:
May through July
Migration:
Red-breasted Nuthatches are permanent residents in much of Canada and the mountains of the western United States. Numbers and distribution in the rest of the United States vary greatly in winter from year to year

.
Feeders:
Sunflower seeds and suet.
Conservation Status:
Populations are generally stable, with some indications of increases in summer breeding range.
2) WhatBird - Red-breasted Nuthatch
3) Audubon Guide - Red-breasted Nuthatch
Photo Information:
September 7th, 2007 - Newton Hills State Park - Terry Sohl
Additional Photos:
Click on the image chips or text links below for additional, higher-resolution Red-breasted Nuthatch photos.