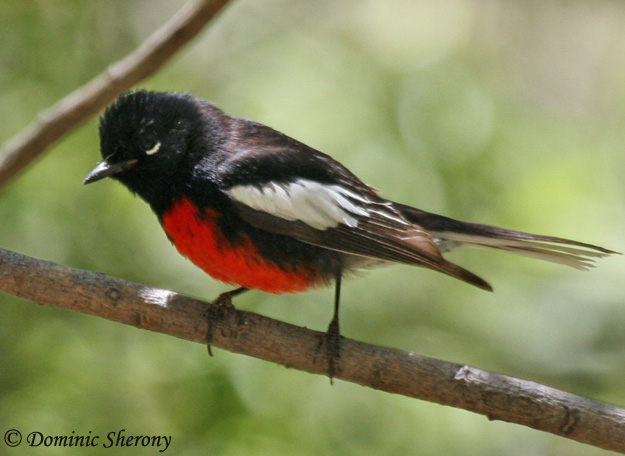 The Painted Redstart is a brilliantly colored bird, with both males and females showing the same brilliant plumage (rare for warbler species). Their primary range is in Mexico and Central America, but the northern extent of their range crosses into Arizona and New Mexico, where they can be locally common. In the U.S. portion of their range, they are primarily found in wooded, higher-elevation canyons and riparian areas.
Habitat:
Found in oak and mixed oak and pine forests in the U.S., often in riparian areas.
Diet:
Feeds mostly on insects. They will also sometimes come to hummingbird feeders for sugar-water.
Behavior:
Very active in foraging, moving quickly through the branches or along the ground. They will sometimes hover and glean insects from foliage while in flight, and will also fly out to capture insects in mid-air.
Nesting:
The nest of a Painted Redstart, built by the female, is a small cup of grasses leaves, and other vegetative material. It is placed on the ground, typically in a protected area such as the base of a rock, on a steep slope, or under a bush. The female lays 3 or 4 eggs, and she alone incubates them. Upon hatching, both parents help to feed the young. In many parts of their range, Painted Redstarts will raise two broods a year.
Song:
Soft, low-pitched warble.
Migration:
Considered a permanent resident throughout much of their range, but those found in the southwestern U.S. are generally migratory, although a few may overwinter in the U.S. Painted Redstarts have rarely wandered far from their normal range, with scattered records throughout many parts of the United States.
Similar Species:
Distinctive if seen well.
Feeders:
Will occasionally visit hummingbird feeders for sugar water.