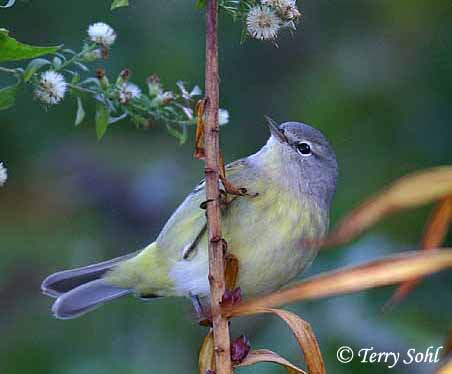 Orange-crowned Warblers are one of the plainest warblers that migrates through the state. Four sub-species are recognized in North America, with some sub-species relatively gray and dull, and others somewhat more colorful. They are usually more noticeable than some other warblers during migration because they often stay very low in trees and shrubs. Orange-crowned Warblers don't migrate as far south in the fall as most warblers, with many staying in the southern United States.
Habitat:
Prefers brushy habitats and woodlands during migration through the state.
Diet:
Mostly insects. Will also feed at sapsucker "wells" for tree sap, and eat berries, some other fruit, insects, and nectar.
Behavior:
Orange-crowned Warblers often forage low in vegetation, but will forage at all heights. They clamber and flit through vegetation, gleaning insects from flowers, leaves, and tips of branches. They will also sometimes capture insects in flight.
Nesting:
Non-breeder in South Dakota
Song:
High thin trill, trailing downward in pitch at the end.
Migration:
Summers in Canada and the Rockies in the western U.S. Winters in the extreme southern U.S. and points south.
Bird Feeders:
Suet and peanut butter, sweet breads.
Conservation Status:
Generally stable throughout its range.
2) Cornell University's "All About Birds - Orange-crowned Warbler"
3) eNature.com: Orange-crowned Warbler
Additional Photos:
Click on the image chips or text links below for additional, higher-resolution Orange-crowned Warbler photos.