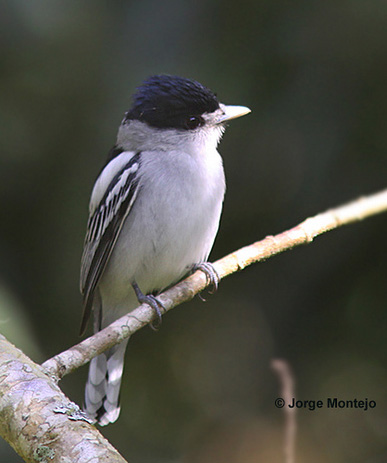 The Gray-collared Becard is normally a bird of arid temperate and tropical zones of Mexico and Guatemala. It was unknown in the United States until a single female was confirmed in southeastern Arizona in 2009. Males sport a black cap and a black back, interrupted by a pale gray nape that merges with grey underparts. Females share similar black and white wing patterns but have a rich brownish back and crown, with a dark eye-stripe.
Habitat:
Found in a variety of semi-open forest habitats in arid temperate zones as well as tropical zones. Potential habitats include pine-oak woodlands, moist lowland forest, moist montane forest, and tropical dry woodlands.
Diet:
Feeds on insects and other small invertebrates, as well as fruits and berries.
Behavior:
Usually forages at mid-level heights to the top of a forest canopy.
Nesting:
Poorly understood. The first description of nesting was only recently published.
Song: A rich, warbling, repeated hoo-hoo-hoo-hoo-hoo
Migration:
Considered a permanent resident throughout their range, but altitudinal shifts as seasons change have been noted.
Similar Species:
Not likely to be confused with another species if seen well.