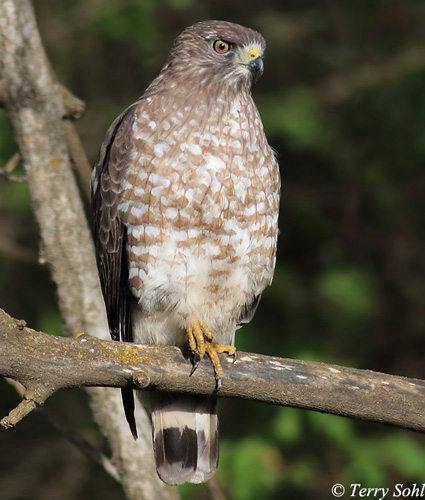 The Broad-winged Hawk is the smallest of the North American Buteos. They are generally found near forest edges and clearings. During migration, thousands may congregate along ridgelines and coastlines or other locations with favorable wind conditions. Relatively tame, Broad-winged Hawks can often be approached more closely than most hawks.
Habitat:
Breeds in deciduous or mixed forest, generally near clearings. Prefers locations near water. During migration, they may be found in nearly any habitat, but generally roost in forest at night.
Diet:
Will feed on a wide variety of items, including small mammals, frogs, snakes, lizards, small birds, large insects, and earthworms.
Behavior:
Usually hunts from a perch, often along forest and woodland edges and near water. During courtship, pairs may be seen circling high in the sky together, calling to each other.
Nesting:
May through July
Song:
Shrill one-pitch whistle, usually given in flight
Migration:
Summers throughout most of the eastern United States, and southeastern and south-central Canada. Long distance migrants, most fly to South America for the winter.
Conservation Status:
Generally stable throughout its range.
2) WhatBird - Broad-winged Hawk
3) Audubon Guide - Broad-winged Hawk
Photo Information: Photo by Terry Sohl - May 4th, 2015 - Big Sioux Recreation Area near Brandon, South Dakota.