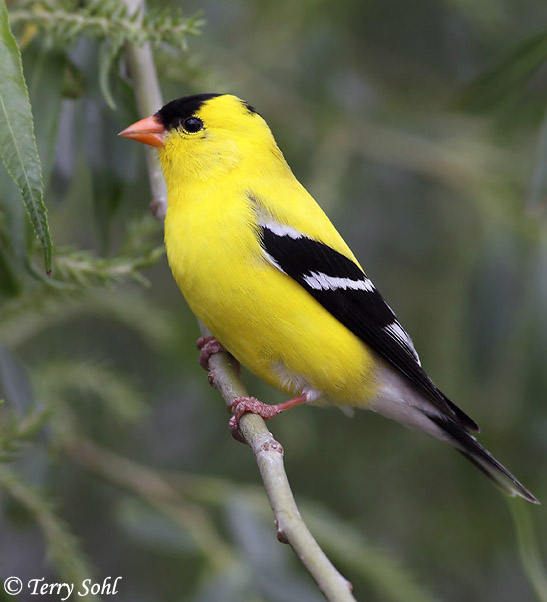 American Goldfinches are a common sight at residential bird feeders in the United States, and are well known for their "per-chickory" calls. The male is brightly plumaged in summer (see photo at the right), while both male and female are duller brown in the winter (see photos at the bottom of the page). They nest later than most migratory songbirds, typically not starting to nest until mid-summer.
Habitat:
Roadsides, residential areas, brushy fields, forest edges, and orchards.
Diet:
Mostly seeds. Also buds, sap, and occasionally insects.
Behavior:
Often forages in small flocks, clambering and climbing over vegetation and seed heads. During the start of the breeding season, males can be seen giving a flight display, singing while they fly.
Nesting:
July and August. The nest of an American Goldfinch is a small cup built of grasses and other plant fibers, spider webs, and downy material from thistles and other plants. The female lays between 3 and 7 eggs, and she alone incubates them. When the eggs hatch, both parents help to feed the young. The young leave the nest after about 2 weeks.
Migration:
Irregular resident in the winter, with large numbers staying one year and very few the next.
Bird Feeders:
Will attend feeders for thistle (niger) and sunflower seeds.
2) Cornell University's "All About Birds - American Goldfinch"
3) eNature.com: American Goldfinch
Photo Information:
April 23rd, 2004 -- House in Brandon -- Terry L. Sohl
Additional Photos:
Click on the image chips or text links below for additional, higher-resolution American Goldfinch photos.