Golden Eagle
Photo of the Week (February 4th, 2018)
(archive photos of the week here)
I'm always a bit in awe when coming across a Golden Eagle. We have plenty of Bald Eagles around, all year around, including a pair that nest less than a mile from our house. While they're certainly impressive birds, Golden Eagles take up another notch in terms of size. The Golden Eagles I come across in the central part of the state in winter also seem to be a bit less shy than the Bald Eagles I run across, given you even closer looks and further impressing upon you the immense size of the bird. This is one that was found in early February near the Fort Pierre National Grasslands in South Dakota.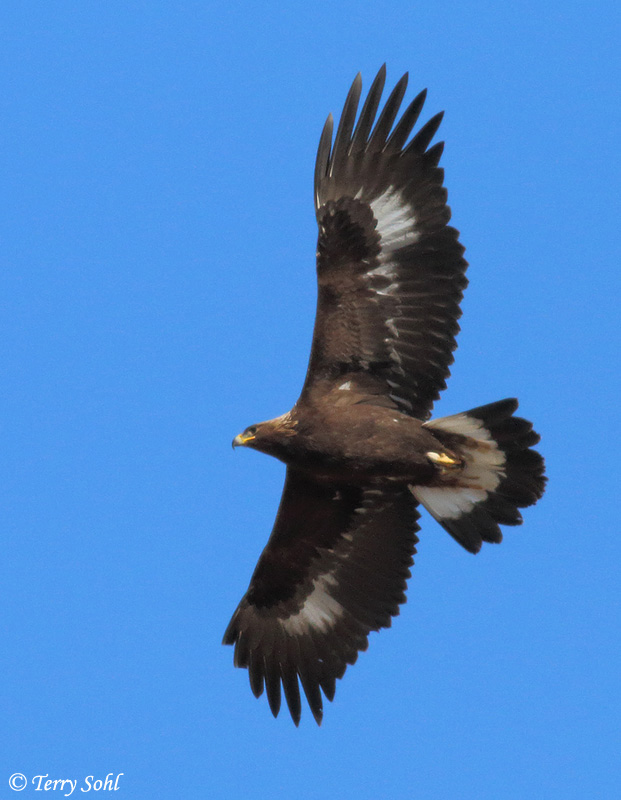 Prints of this photo are available through the following ordering dialogue.

Includes option for mounting print on foam-core or other backing material


Note I MUST have a photo name, or a copy of this page's URL in the 2nd space.

Example (Option) #1 - Enter "Red-tailed Hawk 1"
Example (Option) #2 - Enter "https://www.sdakotabirds.com/species_photos/red_tailed_hawk_1.htm"


All photos copyrighted! Click for information on commerical usage, or usage for other personal purposes.
Use the following Google dialogue to search this South Dakota Birds and Birding site:
Custom Search
SOUTH DAKOTA BIRDS AND BIRDING - LOCATIONS OF WEBSITE VISITORS
Please mail any comments/suggestions/additional links for this page to: Terry L. Sohl