White-winged Crossbill
Photo of the Week (January 21st, 2018)
(archive photos of the week here)
It had been many weeks since I'd been out birding, so I thought I'd try to find some of the uncommon finches that have been present around here this winter. Mount Pleasant Cemetery in Sioux Falls has a number of massive, old spruce and other evergreen trees that attract them in the winter, and it certainly didn't disappoint this morning. The ONLY place I've ever seen White-winged Crossbills has been at this location, and there were many around today. They were extremely active, moving from tree to tree and feeding on the cone seeds along with many Common Redpolls and Pine Siskins. They really seem to like the cones at the very tops of these huge trees! A problem for a photographer! But with some patience, I finally got some photos of some that were feeding a bit lower.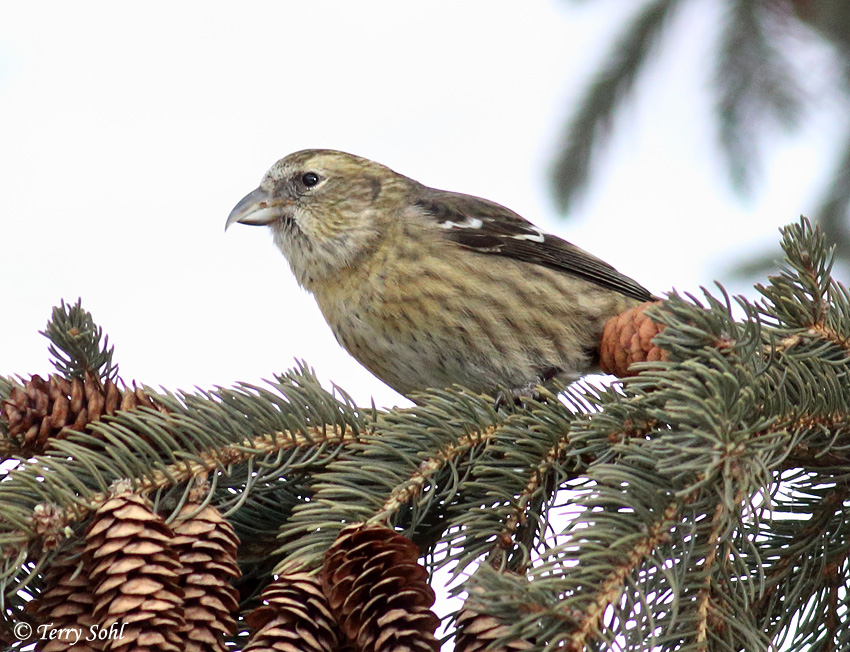 | | | | | |
| --- | --- | --- | --- | --- |
| | | | | |
Prints of this photo are available through the following ordering dialogue.

Includes option for mounting print on foam-core or other backing material


Note I MUST have a photo name, or a copy of this page's URL in the 2nd space.

Example (Option) #1 - Enter "Red-tailed Hawk 1"
Example (Option) #2 - Enter "https://www.sdakotabirds.com/species_photos/red_tailed_hawk_1.htm"


All photos copyrighted! Click for information on commerical usage, or usage for other personal purposes.
Use the following Google dialogue to search this South Dakota Birds and Birding site:
Custom Search
SOUTH DAKOTA BIRDS AND BIRDING - LOCATIONS OF WEBSITE VISITORS
Please mail any comments/suggestions/additional links for this page to: Terry L. Sohl