Costa's Hummingbird (Drawing)
Photo (OK...Image!) of the Week (September 17th, 2017)
(archive photos of the week here)
I've been in a major photographic funk. Part of it is just a general funk and stress. Part of it is that on the few times I have been out, I haven't gotten much for good photos. I thought perhaps 1) drawing again (for the first time since last New Year's Eve) might get me out of my funk, and 2) would give me an image I can use as my "photo" of the week. So, I had a pleasant afternoon, listening to the baseball game while drawing one of my favorite hummingbird species, a Costa's Hummingbird. Not one we get (normally) up in South Dakota, but one I've seen on many occasions during our trips to Arizona.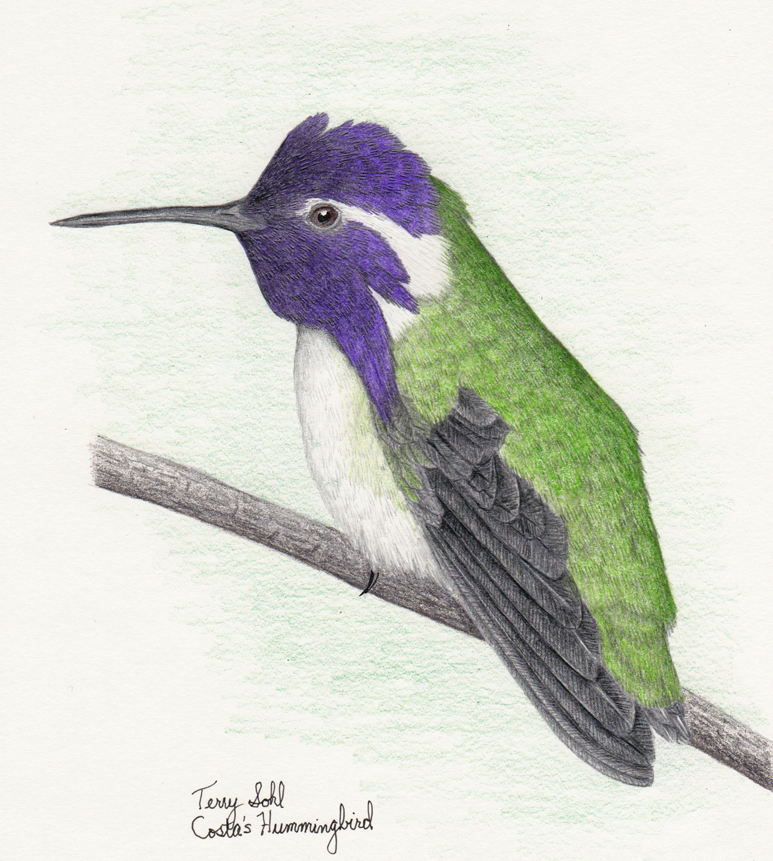 Prints of this photo are available through the following ordering dialogue.

Includes option for mounting print on foam-core or other backing material


Note I MUST have a photo name, or a copy of this page's URL in the 2nd space.

Example (Option) #1 - Enter "Red-tailed Hawk 1"
Example (Option) #2 - Enter "https://www.sdakotabirds.com/species_photos/red_tailed_hawk_1.htm"


All photos copyrighted! Click for information on commerical usage, or usage for other personal purposes.
Use the following Google dialogue to search this South Dakota Birds and Birding site:
Custom Search
SOUTH DAKOTA BIRDS AND BIRDING - LOCATIONS OF WEBSITE VISITORS
Please mail any comments/suggestions/additional links for this page to: Terry L. Sohl