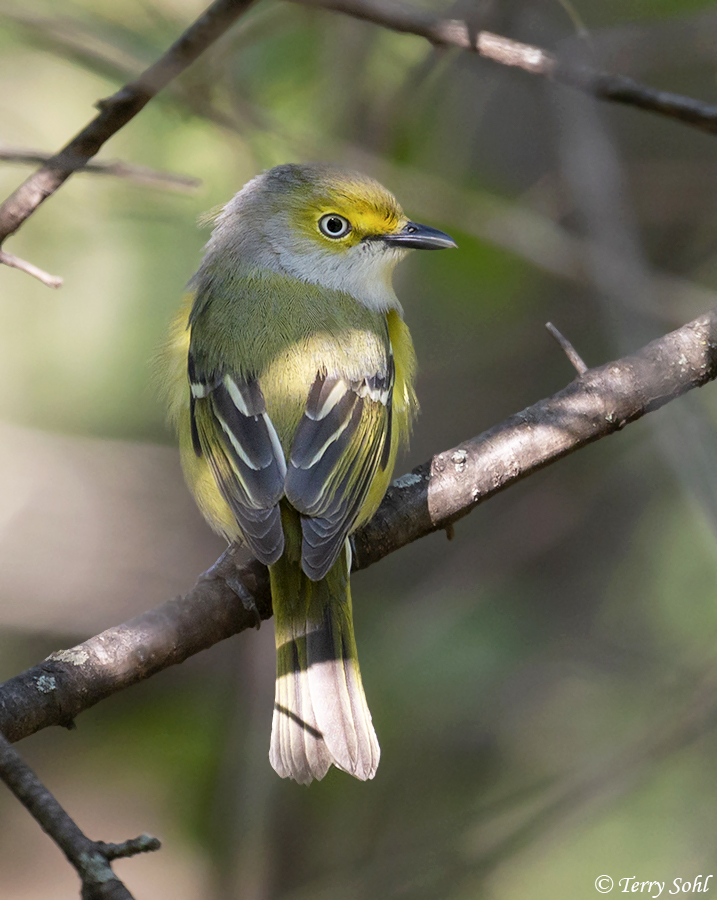 About a week and a half ago, I was birding in Newton Hills State Park, along Sergeant Creek. It's a well-known area for birding, and seems to be a bit of a migrant trap, with a number of unusual (for South Dakota) birds seen there. As I was walking up the trail along the creek, I heard a bird singing in a clump of flowering bushes. The song was…a mess…all over the place, variable, with some harsh notes thrown in. For a second I thought it was a weird Gray Catbird song, but it didn't seem right. I stopped and paused, and it wasn't long before I found the culprit…White-eyed Vireo!! A lifer!!
White-eyed Vireos are normally found as summer breeding birds in the Southeastern United States, making it as far north as Pennsylvania and Massachusetts in the Northeast, and as far west as the southeastern quarter of Iowa. The map at the bottom shows eBird sightings for White-eyed Vireo in South Dakota. There's not many! EBird has two sightings in the Sioux Falls Area…one that was banded up in Aberdeen…one seen in the Black Hills…one at Union Grove State Park…and now this bird at Newton Hills. I also seem to remember Bridget J. seeing one at Newton Hills last spring (?) but I don't see it in eBird. This past weekend, a group of Sioux Falls birders also found the bird, in the same location where it was seen the week before.
The problem though with my first sighting…I couldn't get a photo! He was a vocal little sucker, singing his heart out and flitting through the foliage, but I never got any good photo chances. Tonight I went back, not really looking for the White-eyed Vireo but walking the same trail. I was only about 10 yards further down the trail than last time when I heard the same unique song. He was still there! This time I was determined to get a photo. He was still foraging in the same general area, actively moving through the bushes and nearby trees, flying out a few times to flycatch. But like last time, he would always land back in the foliage. It took a while, but I was finally able to find a little opening in the twigs and foliage to get a few shots of him while he paused for a moment.
After 20 years of birding, it's getting harder and harder to get a lifer in South Dakota…it's always great when you find one! I hope this one beats the odds, sticks around, and somehow finds a mate to join him on his lil' South Dakota vacation.