Common Nighthawk Photos
Photography by Terry Sohl
My Favorite: Common Nighthawks are something you often see in the summer months in South Dakota, but it's mostly while they're foraging, with erratic, acrobatic flights as they chase flying insects. I don't see them sitting still very often, partially because where trees are available, they'll often roost in the daytimes on a tree branch, where they tend to blend right in. In western South Dakota, however, you have broad swaths of land with few trees, and you do sometimes see them perched on a fence post, a bare rock, or other exposed location. On this trip near Wind Cave National Park in June of 2020, I found one perched on the barbed wire itself. Another reason this is a favorite photo is that I caught the moment when he was making the strange, harsh call of a Common Nighthawk.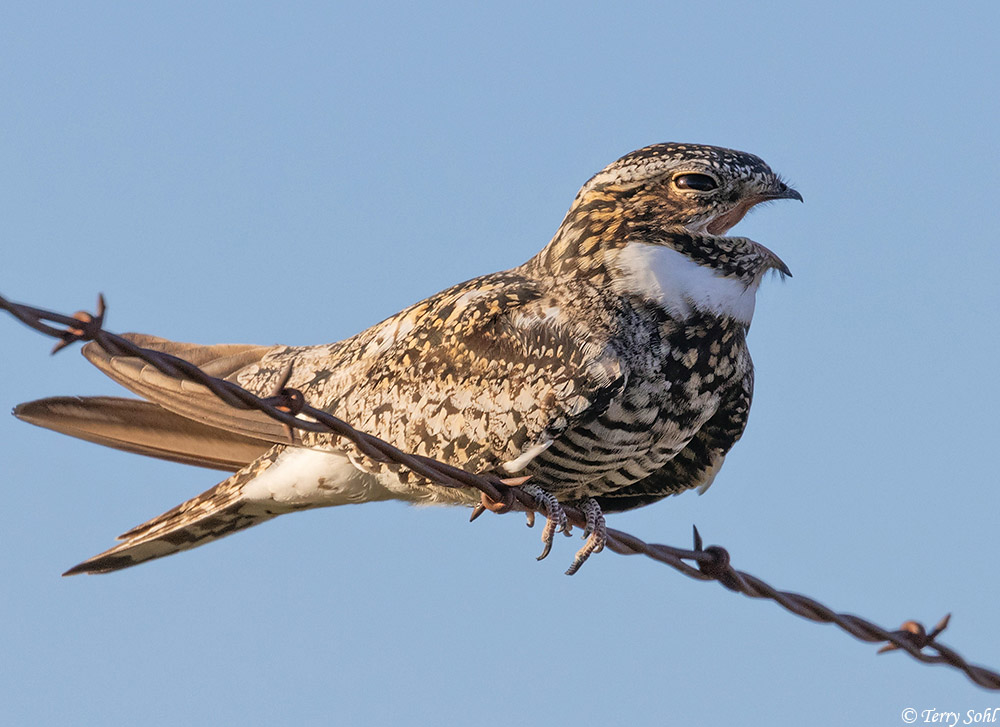 June 28th, 2020
Near Wind Cave National Park, South Dakota
June 28th, 2020
Near Wind Cave National Park, South Dakota
May 19th, 2019
Newton Hills State Park, South Dakota
June 30th, 2017
Near Kadoka, South Dakota
Click here for the species description page for the Common Nighthawk

Contact me if you'd like to order a print of these photos - Multiple sizes, matting options available
All photos copyrighted! Click for information on commerical usage, or usage for other personal purposes.
Use the following Google dialogue to search this South Dakota Birds and Birding site:
Custom Search
SOUTH DAKOTA BIRDS AND BIRDING - LOCATIONS OF WEBSITE VISITORS
Please mail any comments/suggestions/additional links for this page to: Terry L. Sohl