Hooded Oriole Photos
Photography by Terry Sohl
My Favorite: There's a wonderful B&B on the eastern outskirts of Tucson, Arizona that we've stayed at several times. They're right on the boundary of the eastern unit of Saguaro National Park, and they have their own 40 acres of wonderful Sonoran Desert habitat to walk around. It's birding nirvana for me, not just for the typical desert species, but for all the other area birds that are attracted to the multiple water features the owners have. There's always a pair or two of Hooded Warblers nesting in the big palm trees next to the house. A bit frustrating to try to photograph, as usually they're quite high up in the trees, but thankfully I got this rare opportunity to get a photo when a male came down low enough for a quick portrait.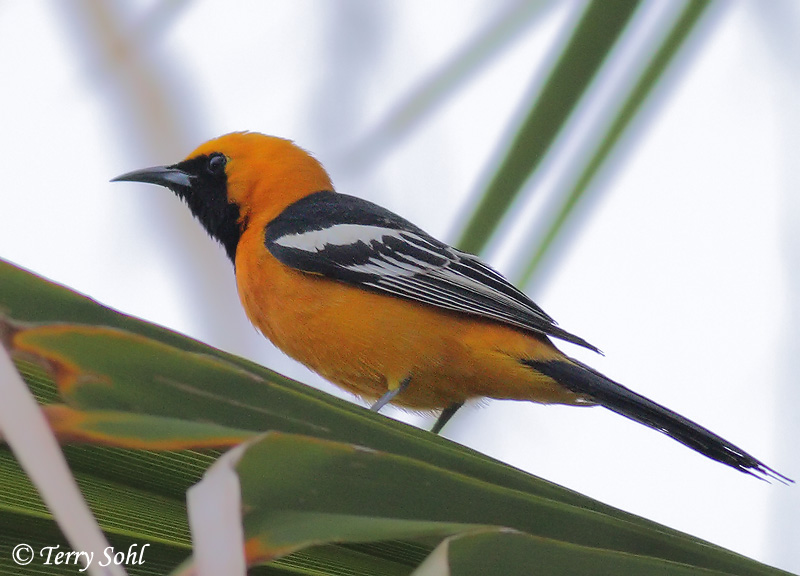 April 18th, 2014

Outskirts of Tucson, Arizona
Click here for the species description page for the Hooded Oriole.

Prints of these photos are available through the following ordering dialogue.
Multiple sizes available. Includes option for mounting print on foam-core or other backing material
Note I MUST have a photo name entered in the 2nd space!!
Example - Enter "Red-tailed Hawk 1" in the 2nd space

All photos copyrighted! Click for information on commerical usage, or usage for other personal purposes.
Use the following Google dialogue to search this South Dakota Birds and Birding site:
Custom Search
SOUTH DAKOTA BIRDS AND BIRDING - LOCATIONS OF WEBSITE VISITORS
Please mail any comments/suggestions/additional links for this page to: Terry L. Sohl