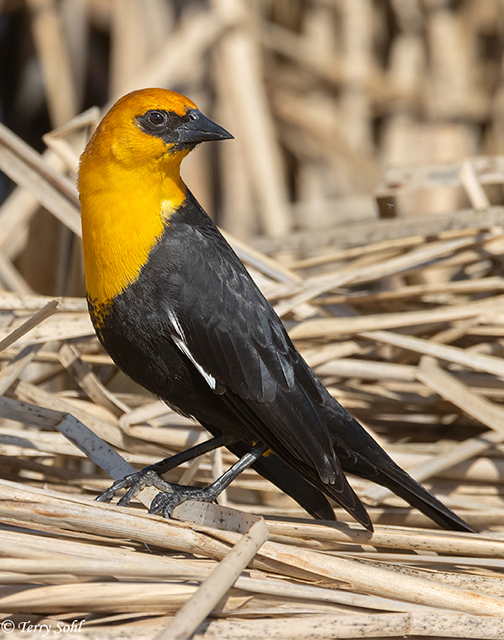 An easily identifiable bird of marshes and sloughs. Yellow-headed Blackbirds are described by many to have the absolute worst male song of any U.S. bird. They usually nest in colonies in marshes of cattails. During migration and in winter, they can sometimes be found in huge flocks in open fields and pastures. A male is pictured at the right; females are similar, but with much less vibrant yellow, and usually a dark brown instead of black on the body (see photos at the bottom).
Habitat:
Freshwater sloughs, marshy lake borders. Feeds around marshes, farm fields, and feedlots.
Diet:
Mostly seeds and insects, with the majority of the diet likely seeds.
Behavior:
Very gregarious, usually nesting in colonies. Often gathers in huge mixed flocks of blackbirds during the winter months and in migration.
Nesting:
Late May through June
Song: Harsh, unpleasant ka-aaaaack
Migration:
Neotropical migrant, wintering the southwestern U.S. through Mexico and Central America.
Similar Species:
Generally distinctive.
Conservation Status:
Generally stable throughout its range, although they are susceptible to habitat loss through wetland destruction.
2) Cornell Lab of Ornithology - Yellow-headed Blackbird
3) eNature.com: Yellow-headed Blackbird
Photo Information:
May 26th, 2003 -- Western Minnehaha County -- Terry L. Sohl
Additional Photos:
Click on the image chips or text links below for additional, higher-resolution Yellow-headed Blackbird photos.