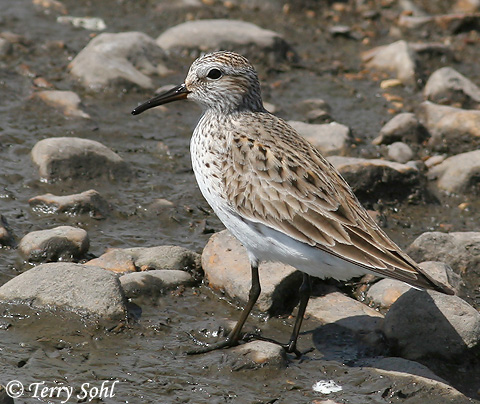 The White-rumped Sandpiper is a fairly plain sandpiper, somewhat difficult to differentiate from other similarly sized sandpipers, until it takes flight and the white rump becomes obvious. The White-rumped Sandpiper is a very long-distance migrant, summering in the Arctic and wintering as far south as the outer islands of Antarctica. They migrate through in large groups, often stopping at select, traditional locations, making them potentially vulnerable to habitat loss along the migration route.
Habitat:
During migration, found in temporary wetlands, flooded fields, shallow marshy grasslands, beaches, sandbars, and other similar habitats. Breeds on low grassy tundra in and around the Arctic.
Diet:
Insect and insect larvae, marine worms, mollusks, crustaceans, leaches, seeds, and other vegetation.
Behavior:
Forages on mudflats by probing in the mud or shallow water, or plucking food items from the mud or water's surface.
Breeding:
Non-breeder in South Dakota. On their breeding grounds in the Arctic, the female builds a small depression on the ground and lines it with bits of moss and lichen (or other vegetative material if available). The female incubates the eggs, which hatch after about 3 weeks. The young fledge from the nest in another 2 to 3 weeks.
Song:
High-pitched, squeaky jeeet, often a single note, but sometimes multiple notes (in alarm calls or when disturbed).
1Click here to hear the calls of multiple White-rumped Sandpipers in flight.
2Click here to hear the call of a single White-rumped Sandpiper taking flight while flushed from the ground.
Migration:
Extremely long-distance migrant, summering in and near the Arctic, and wintering in southern South America. Many make non-stop flights in the fall from eastern Canada to northern South America.
Interactive eBird map:
Click here to access an interactive eBird map of White-rumped Sandpiper sightings
Similar Species:
Western Sandpiper - Western Sandpipers lack the white rump seen in flight on a White-rumped Sandpiper. They are smaller, and generally have a cleaner, whiter upper breast than a White-rumped Sandpiper. Western Sandpipers also have a rusty-colored cap and richer coloring during the breeding season than do White-rumped Sandpipers.
Baird's Sandpiper - Baird's Sandpipers lack the white rump seen in flight, have more of a patterned, scaly appearance on their back feathering and usually have a warmer-colored appearance.
Conservation Status:
Vulnerable to habitat loss in its migration path, and populations have been in decline in recent decades. However, they are still found over a very broad geographic area, and are common in parts of their range.. The IUCN still currently considers the White-rumped Sandpiper to be a species of "Least Concern".
Further Information:
1) BirdWeb - White-rumped Sandpiper
2) WhatBird - White-rumped Sandpiper
3) Audubon Field Guide - White-rumped Sandpiper
Photo Information:
May 20th, 2005 - Lake Thompson in South Dakota - Terry Sohl
Additional Photos:
Click on the image chips or text links below for additional, higher-resolution White-rumped Sandpiper photos.
Audio File Credits:
1Andrew Spencer, XC147083. Accessible at www.xeno-canto.org/147083
2Andrew Spencer, XC90640. Accessible at www.xeno-canto.org/90640