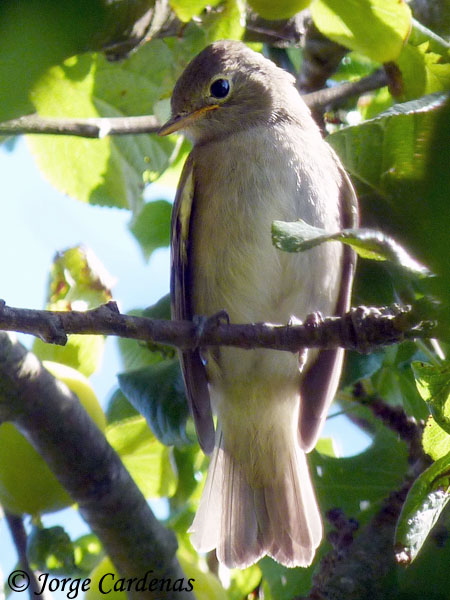 The White-crested Elaenia is widespread in South America, breeding in the western part of the continent, and wintering in much of the rest of South America. With a normal range restricted to the continent of South America, they were unknown in North America until a single bird was identified in south Texas in 2008. Four years later, in 2012, birders were shocked to find a White-crested Elaenia on the west side of Chicago, Illinois. Their namesake, the white crown, is in the middle of small crest and can sometimes be difficult to see in the field.
Habitat:
Found in a variety of forested settings, including forest edges, forest clearings, and second-growth forest.
Diet:
Feeds on insects as wells as small fruits and berries.
Behavior:
Forages by climbing through the branches and gleaning insects from foliage and branches, or hovering and gleaning insects. Perches while feeding on fruits and berries.
Nesting:
The nest of a White-crested Elaenia is a cup of grasses, leaves, lichens, mosses, and twigs, lined with plant down or feathers. The female usually lays 2 or 3 eggs.
Song:
Song of a White-crested Elaenia is a short, slightly harsh two or three phrases.
Migration:
Normally breeds in the western Andes mountains of South America, and in areas in southern South America. During the southern Hemisphere winter, they can be found throughout much of the South American continent.
Similar Species: Similar to other Elaenia species found in South America. For its rare North American appearances, possibly most likely to be confused with grayish flycatcher species such as the Eastern Wood-Pewee.