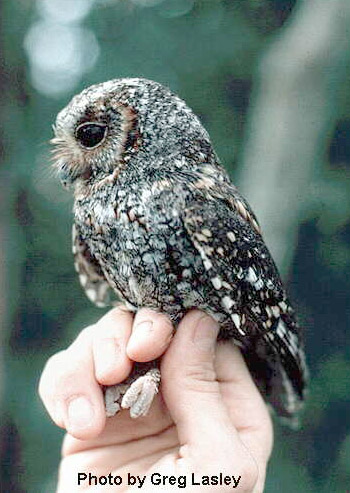 The Flammulated Owl is the second smallest owl found in the United States, second only to the Elf Owl of the Southwestern U.S. They are found in coniferous forests of the west, where they primarily pursue insects and spiders. They are difficult to observe and their exact population status is unknown in many areas. They are very closely related to screech owls, and appear very similar to them, other than their distinctive dark eyes, smaller size, and shorter ear tufts.
Habitat:
Typically found in open conifer forests of mountain areas in the western U.S. They also can be found in aspen groves in some areas.
Diet:
Feeds almost exclusively on large insects, especially moths, crickets, grasshoppers, and beetles, Also feeds on spiders. Unlike most owls, very rarely if ever feeds on vertebrates such as small mammals.
Behavior:
Primarily forages by observing from a perch and flying out to capture insects when spotted, mostly by hovering and gleaning them from foliage and tree branches, but sometimes by catching them in mid-air.
Breeding:
Non-breeder in South Dakota. In range, the nest is in a tree cavity, usually an old woodpecker hole. The female lays 2 or 3 eggs, and she alone incubates them while the male brings food. Once the eggs hatch, the female stays with the young at first while the male brings food to the family. The young fledge after about 4 weeks.
Song:
Quiet soft hoot, often repeated every few seconds.
Migration:
Found in suitable forest habitat throughout the western U.S. in summer months. Strongly migratory, with U.S. birds moving southward to Mexico or Central America for the winter.
Conservation Status:
Populations appear to be stable, with local declines where suitable forest has been destroyed.
3) Audubon Guide - Flammulated Owl
Photo Information: January 28th, 2006 - Photo from U.S. Geological Survey