Great Gray Owl
Photo of the Week (March 4th, 2018)
(archive photos of the week here)
What the hell, let's end the winter of 2017/2018 with a bang! So was the thinking in making the long, 6-hour trek to Sax-Zim Bog in northern Minnesota. The highlight of such a trip is always owls, with one of the best chances in the lower 48 states to see Great Gray Owls, Northern Hawk Owls, and Boreal Owls. After a slow first day, Sunday, March 4th didn't disappoint, as I saw and photographed three Great Gray Owls and 2 Northern Hawk Owls. The highlight of the trip, and the ONLY owl that was really within close range, was this Great Gray foraging alongside the road (the aptly named "Owl Avenue", no less!).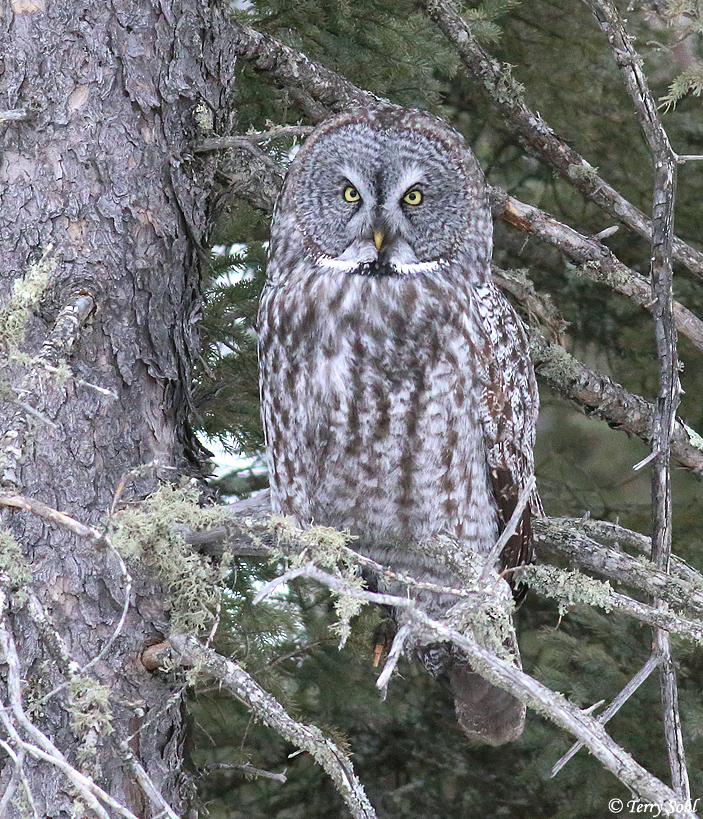 Prints of this photo are available through the following ordering dialogue.

Includes option for mounting print on foam-core or other backing material


Note I MUST have a photo name, or a copy of this page's URL in the 2nd space.

Example (Option) #1 - Enter "Red-tailed Hawk 1"
Example (Option) #2 - Enter "https://www.sdakotabirds.com/species_photos/red_tailed_hawk_1.htm"


All photos copyrighted! Click for information on commerical usage, or usage for other personal purposes.
Use the following Google dialogue to search this South Dakota Birds and Birding site:
Custom Search
SOUTH DAKOTA BIRDS AND BIRDING - LOCATIONS OF WEBSITE VISITORS
Please mail any comments/suggestions/additional links for this page to: Terry L. Sohl