Red Crossbill
Photo of the Week (September 10th, 2017)
(archive photos of the week here)
One reason birding can be so rewarding is the "surprise" factor. You never know what you may find when you head out on a birding excursion. In much of the Great Plains right now, those surprises have come in the form of Crossbills. Crossbills are known to wander widely, as they will go where the food is. Food for them is primarily the seeds of pines and other conifers. Evidently it's been an extremely poor year for pine, spruce, and fir cones in the Rocky Mountains, and as a result, there's been a mass irruption of Red Crossbills into the Great Plains. It's quite unusual. Even when they do wander into eastern South Dakota, it's almost always in winter. There are only a handful of records in eastern South Dakota during the summer months, but they're being seen in multiple locations, as well as in surrounding Plains states. This week I did go to Mount Pleasant Cemetery in Sioux Falls to see a large flock, but didn't take any photos. This is a photo of a Red Crossbill from the Black Hills, where they are permanent breeding residents.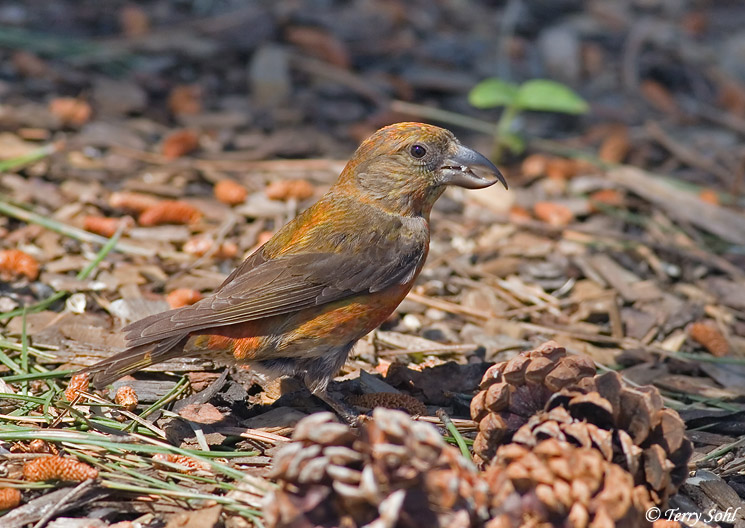 | | | | | |
| --- | --- | --- | --- | --- |
| | | | | |
Prints of this photo are available through the following ordering dialogue.

Includes option for mounting print on foam-core or other backing material


Note I MUST have a photo name, or a copy of this page's URL in the 2nd space.

Example (Option) #1 - Enter "Red-tailed Hawk 1"
Example (Option) #2 - Enter "https://www.sdakotabirds.com/species_photos/red_tailed_hawk_1.htm"


All photos copyrighted! Click for information on commerical usage, or usage for other personal purposes.
Use the following Google dialogue to search this South Dakota Birds and Birding site:
Custom Search
SOUTH DAKOTA BIRDS AND BIRDING - LOCATIONS OF WEBSITE VISITORS
Please mail any comments/suggestions/additional links for this page to: Terry L. Sohl