Eastern Kingbird
Photo of the Week (June 18th, 2017)
(archive photos of the week here)
Middle of June, the first day of summer is here, and we're in full-blown "summer mode" in terms of birding. That means focusing on our wonderful summer breeding birds, and forgetting about the wonderful array of migrants that passed through in the spring. As we say goodbye to Spring, a nod to a bird that to me typifies "summer" in eastern South Dakota. Eastern Kingbirds are among the most common songbirds during the summer. You can find them on seemingly every fenceline. They're not particularly flashy, with a simple black-and-white color scheme. However, they're still one of my favorites, both because of their aggressive, fun-to-observe behavior, but also because when they DO arrive in early to mid-May, you know that the cold South Dakota weather is DONE! For a few months anyway! Here's an Eastern Kingbird sitting on an eastern red cedar, taken in June 2017 near Corson, South Dakota.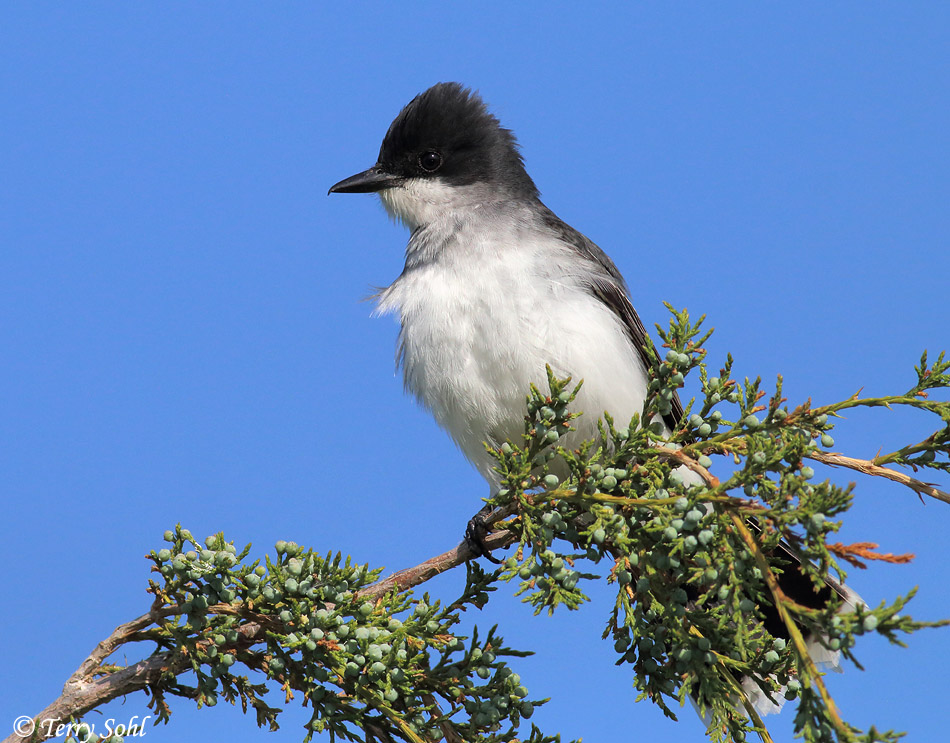 | | | | | |
| --- | --- | --- | --- | --- |
| | | | | |
Prints of this photo are available through the following ordering dialogue.

Includes option for mounting print on foam-core or other backing material


Note I MUST have a photo name, or a copy of this page's URL in the 2nd space.

Example (Option) #1 - Enter "Red-tailed Hawk 1"
Example (Option) #2 - Enter "https://www.sdakotabirds.com/species_photos/red_tailed_hawk_1.htm"


All photos copyrighted! Click for information on commerical usage, or usage for other personal purposes.
Use the following Google dialogue to search this South Dakota Birds and Birding site:
Custom Search
SOUTH DAKOTA BIRDS AND BIRDING - LOCATIONS OF WEBSITE VISITORS
Please mail any comments/suggestions/additional links for this page to: Terry L. Sohl