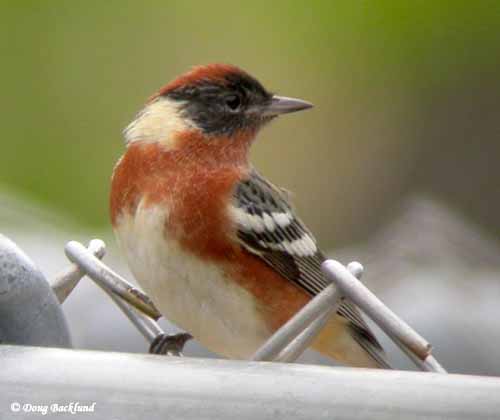 Bay-breasted warblers summer in conifer forests of Canada and the northeastern U.S. Populations of this warbler can vary dramatically, often rising during outbreaks of conifer forest pests, especially spruce budworm. Winter plumage is dramatically different than the colorful summer plumage (photo to the right).
Habitat:
Can be found in a wide variety of forest/woodland habitats during migration. During the summer breeding season, they strongly prefer spruce or fir forest stands, but will use other types of tree as well.
Diet:
Primarily insects during breeding. Will also eat berries, especially during the winter or cold snaps.
Behavior:
Primarily forages at mid-levels in spruce or other conifer stands, moving through branches in search of insects.
Migration:
Summers primarily in Canada, parts of the Northeastern U.S. Winters in Central and South America.
Similar Species: Chestnut-sided Warbler
. Similar to many other warblers in fall and winter plumage.
Conservation Status:
Generally stable, with some population fluctuations that follow availability of common prey insects.
2) BirdWeb - Bay-breasted Warbler
3) Audubon Guide - Bay-breasted Warbler
Photo Information:
May 23rd, 2004 -- Pierre -

- Doug Backlund