South Dakota Birds and Birding - Home Page
South Dakota Birding"Hotspot"
Gavin's Point Dam Area
Photo Location#1 -- Tailrace below the dam
One of my favorite late fall and early winter birding locations is the tailrace below Gavin's Point Dam. In winter, you will always find numbers of Bald Eagles cruising the open water for food, or hanging out in the trees along the river. There's one particular cottonwood tree right near the parking lot entrance below the dam where you are almost guaranteed to find Bald Eagles during a day trip to the area (see "The Tree" below!). The turbulent waters of the tailrace itself are also a tremendous place to look for rare gulls and waterfowl. I've found Glaucous Gulls, Lesser Black-backed Gulls, Thayer's Gulls, and Black-legged Kittiwakes before in this area, as well as Long-tailed Ducks and White-winged Scoters. Osprey can also often be found here, competing with the Bald Eagles for the stunned baitfish coming through the tailrace. Be sure to also visit the Visitor's Center on the Nebraska side, up on a bluff overlooking all the action.
Note the photo on the bottom, taken from the Missouri River on the Nebraska side, looking up towards the dam. It gives you an idea of what the area looks like, and the trees along the bank. Also note the five ellipses...those are 5 Bald Eagles sitting in one tree!.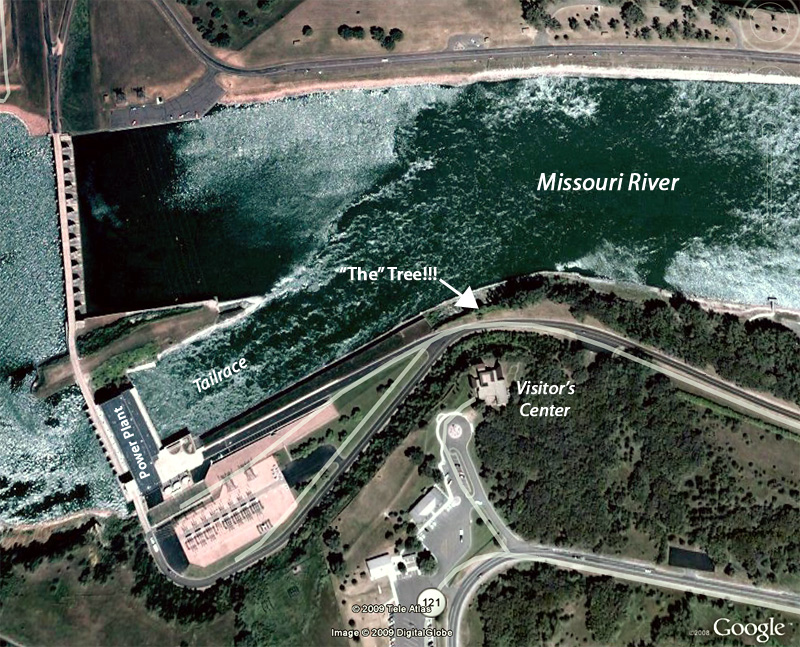 Use the following Google dialogue to search this South Dakota Birds and Birding site:
Custom Search
SOUTH DAKOTA BIRDS AND BIRDING - LOCATIONS OF WEBSITE VISITORS
Please mail any comments/suggestions/additional links for this page to: Terry L. Sohl