Broad-billed Hummingbird Female on Nest Photo

This photo of a female Broad-billed Hummingbird on its nest was taken on May 4th, 2008 on the outskirts of Tucson, Arizona. We have a favorite B&B here that has their own 40+ acres of Sonoran Desert land. They've got plenty of fountains and flowers right around the hacienda itself, and coupled with the surrounding desert landscape, it's a true birding paradise.
This little gal was sitting on a nest...on a trailing vine, right outside our door at the hacienda!! You literally had to duck to move around her! This is the only photo I took of her, as I didn't want to disturb her nesting. Photo taken with Canon 20D, 400 5.6L.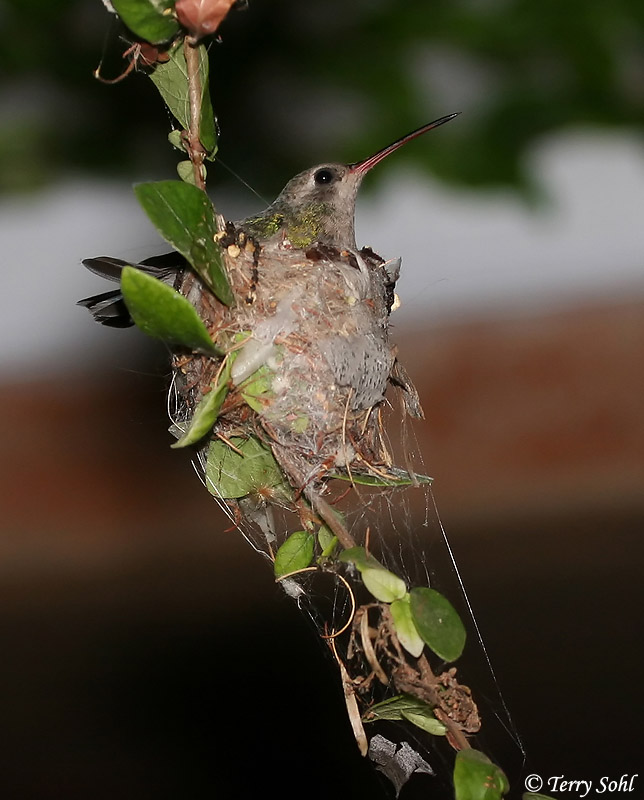 Prints of this photo are available through the following ordering dialogue.

Includes option for mounting print on foam-core or other backing material


Note I MUST have a photo name, or a copy of this page's URL in the 2nd space.

Example (Option) #1 - Enter "Red-tailed Hawk 1"
Example (Option) #2 - Enter "https://www.sdakotabirds.com/species_photos/red_tailed_hawk_1.htm"


All photos copyrighted! Click for information on commerical usage, or usage for other personal purposes.
Use the following Google dialogue to search this South Dakota Birds and Birding site:
Custom Search
SOUTH DAKOTA BIRDS AND BIRDING - LOCATIONS OF WEBSITE VISITORS
Please mail any comments/suggestions/additional links for this page to: Terry L. Sohl