Broad-billed Hummingbird Female on Nest Photo

This photo of a female Broad-billed Hummingbird on its nest was taken on May 4th, 2008 on the outskirts of Tucson, Arizona. We have a favorite B&B here that has their own 40+ acres of Sonoran Desert land. They've got plenty of fountains and flowers right around the hacienda itself, and coupled with the surrounding desert landscape, it's a true birding paradise.
This little gal was sitting on a nest...on a trailing vine, right outside our door at the hacienda!! You literally had to duck to move around her! This is the only photo I took of her, as I didn't want to disturb her nesting. Photo taken with Canon 20D, 400 5.6L.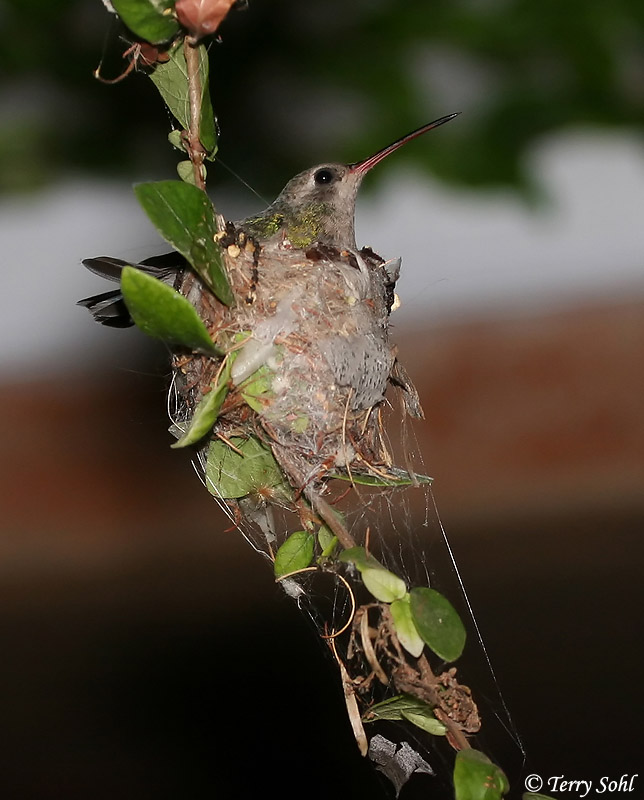 Contact me if you'd like to order a print of this photo - Multiple sizes, matting options available
All photos copyrighted! Click for information on commerical usage, or usage for other personal purposes.
Use the following Google dialogue to search this South Dakota Birds and Birding site:
Custom Search
SOUTH DAKOTA BIRDS AND BIRDING - LOCATIONS OF WEBSITE VISITORS
Please mail any comments/suggestions/additional links for this page to: Terry L. Sohl